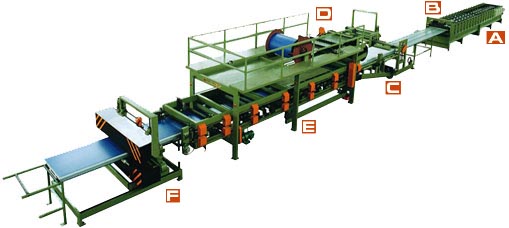 EPS Sandwich Panel Production Line

Consecutive steps

A: Uncoiler B: Roll Forming C: EPS Board Insert D: Adhesive E: Laminating F: Cross Cutter



(1) Un - Coiling
An Un-Coiler is the start point for manufacturing of products. This machine is to provide steel plate to forming machine. Normally, the steel as raw materials is to be supplied as a bundle of coil from outside, and this fed to an Un-Coiler.
(2) Roll Forming
With a Roll Forming Machine, corrugated panels are made in pressing the steel plates by the rollers up and down. According to panel shapes. number of rollers is to be determined, and also, by the control of its speed, the production quantity can be adjusted.
(3) EPS Storage and Feeding
The EPS Feeding Line is to provide EPS foam from its storage to gab of the steel plates between up and down, which is the one of the critical parts of panel manufacturing process.
(4) Laminating
The purpose of this Laminating Machinery is to make bonding tight both sides of corrugated panels filled with EPS foam by PU chemicals as bonding materials by use of pressing rollers. The Panel thickness and production speed can be adjustable.
(5) Panel Cutting
After completion of laminating of the corrugated panels, remaining thing is to cut the panels wanted.

The line is to produce a sandwich panel by the insertion of mineral wool or E.P.S. into a space between color coils that are continuously provided by a hydraulic un-coiler. This is to produce panels for factories, warehouses, houses, etc. Because it is light, the builder saves constructing time and labour.
The line is divided into 3 sections - forming section, laminating section and cutting section. The line is automated by electric controller next to laminating machine.According to customer's requests, the line can have different forming section.
Features of EPS sandwich panel production line:
♦ Corrugated panel with various joints option available
♦ Continuous automatic production available
♦ Nonstandard panel type as Customer requirement
♦ Flexible optioEn for customer practical need
♦ PLC(programmable logic controller) combined with touch screen
♦ Automatic length to cut and count available
♦ Complete accessory equipment available
Specification of EPS sandwich panel production line:
♦ External/fix dimensions:Length45000mm*Width4500mm*Height2700mm
♦ Operation Voltage: 380V
♦ Total power: about 32KW
♦ Weight: 25 tons
♦ Production/Operation rate: 0-4.5m/min
♦ Material thickness: 0.3-0.8mm
♦ Core thickness: 20-300mm
♦ Control system: Touch screen with PLC, Transducer

The size of up color-steel sheet: 1200mm
The size of bottom color-steel sheet: 1000mm
b = 50-100mm
Core material: polystyrene foam or mineral wool

The size of up color-steel sheet: 1200mm or 1000mm
The size of bottom color-steel sheet: 1200mm or 1000mm
b = 50-150mm
Core material: polystyrene foam or mineral wool

The size of up color-steel sheet: 1000mm
The size of bottom color-steel sheet: 1000mm(need cutting)
b = 50-150mm
Core material: polystyrene foam or mineral wool