Products>>PU Sandwich>>PU Sandwich Panel Machinery
PU Sandwich Panel Production Line
This line is divided into 3 sections - forming section, injecting section and run-out section. Forming Section is to shape the uncoiled skins. In Injection Section, a machine injects Polyurethane on the pre-heated skins and when the skins are passing through the double slat conveyor, the Polyurethane is foamed to a complete panel. After that it is cut into required length. The Run-out section transfers the complete panel and turns over for the packing. The whole line is operated automatically and saves labour work.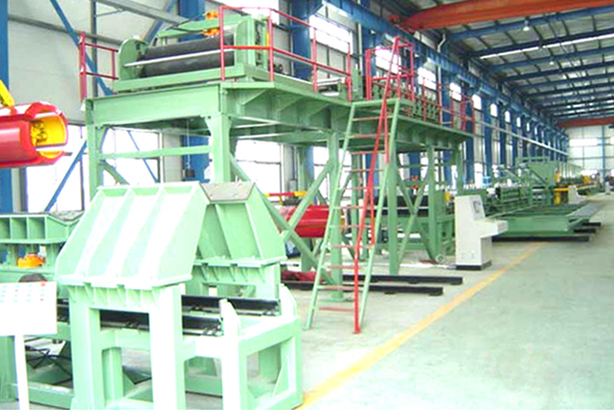 Layout of PU Sandwich Panel Production Line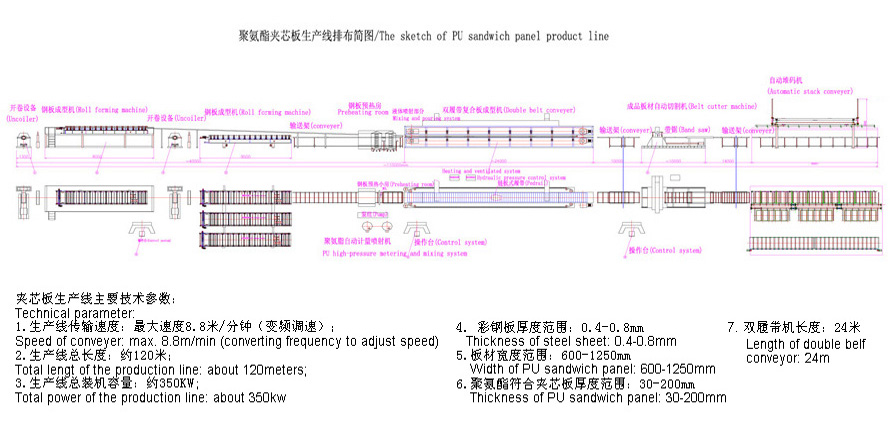 Main configuration of the PU sandwich panel line:
♦ Automatic decoiler
♦ Steel panel transverse cutting machine, PVC laminating machine
♦ Roll forming machine
♦ Conveyor
♦ Pre-heating room
♦ PU two component Liquid mixing and injecting section for forming( low pressure)
♦ Double belt machine include side nylon seal blocks
♦ Heating and heat insulation system
♦ Panel automatically cutting system
♦ Roof panel cutting machine (detached and undetached)
♦ Electric control system
This line can make two kinds of PU sandwich panel
(1) roof panel

Note: the thickness of the panel is 40mm-100mm, but in this production line, we only supply the side nylon seal block to make the 40mm sandwich panel.
(2) wall panel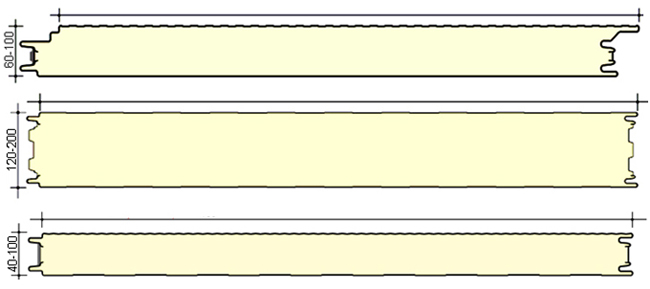 Technical parameters of the PU sandwich panel line:
| | | |
| --- | --- | --- |
| Type | ABE-350 | ABE-200 |
| Productivity | 1000000m2 | 576000m2 |
| Speed of Conveyor | 8.6m/min | 4m/min |
| Length of Line | 120m | 80m |
| Length of Double-pedrail machine | 24m | 16m |
| Power | 350kw | 200kw |
| Thickness of Steel Sheet | 0.4-0.8mm | 0.4-0.8mm |
| Load of Decoiler | 8T | 8T |
| Width of PU Sandwich Panel | 600-1250m | 600-1250mm |
| Thickness | 30-200mm | 30-200mm |
| Coverage of Needed Area | 120*18*3.5m | 80*18*3.5m |
| Density of PU sandwich panel | 35-45kg/m2 | 35-45kg/m2 |