EPS Production Line(EPS Machine)
3D Wire Panel Line
XPS Board Production Line
EPS Sandwich Panel Line
PU Sandwich Panel Line
Products>>PU Sandwich>>PU Sandwich Panel Machinery
PU Sandwich Panel Machinery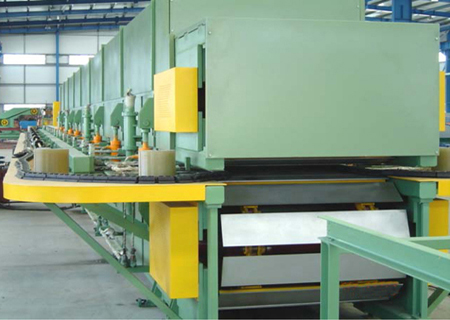 Double Belt Machine
♦ Length of the double belt machine is about 24m, which consists of upper frame and lower frame, each frame has three sections;
♦ The width is about 1.6m,the height of the down belt is about 1.2m;
♦ The width of pedrail board is 1320mm, the range of adjusting distance: min 30mm, max 200mm;
♦ Horizontal distance between the two sides nylon seal blocks can be adjusted to meet customersí» different requirement. The width is from 600mm to 1300mm;
♦ Four sets of nylon seal blocks for making the different thickness sandwich panel- one kind of roof panel and three kind of wall panel.
♦ One set of heating and heat insulation system: the DOUBLE BELT machine is closed by heat insulation material. The heating system heat and fan hot air to keep the temperature 25-35íŠ in the DOUBLE BELT machine. The temperature could adjust according to the production process.
Related keywords: double belt machine, double crawler track, PU sandwich panel line double belt machine
Related PU sandwich panle machinery: