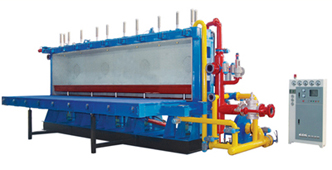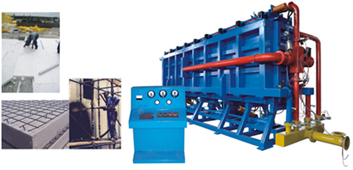 EPS Height-Adjustable Block Molding Machine

EPS Block Molding Machine

Description of EPS Height-Adjustable Block Moulding Machine :
Foam Plastics Board Molding Machine is a fully automatic equipment that adopt Programmable Controller, hydraulic system and pneumatic system. It is the professional equipment used to produce super long and thick expandable polystyrene board with size of 6000mm*1200mm*630mm. It can also produce special products of different standard as customers¡¯ requirement (with the size smaller than 6000mm*1200mm*630mm).The molding principle of this equipment is to send pre-expanded EPS beads into molding cavity by fully automatic feed gun and heat the cavity by vapor to make beads coherent, and then cool the cavity by cold air to make EPS beads into shape thus produces required products. Products can be used as materials for thermal insulation, sound insulation, cushioning, packaging, and compound board wall system, casting and building industries.


Technical Parameters of EPS Block Molding Machine:
Item

Unit

ABE-TJ6000

EPS-TJ8000

Theoretical
Size of mold cavity

L

mm

6000

8000

W

mm

950-1250

950-1250

H

mm

630

630

Production density

Kg/ m3

6-40

6-40

Productivity

pcs/h

2-15

2-15

Vertical speed of the moving template

mm/s

36.25

36.25

Steam pressure

MPa

0.6-0.8

0.6-0.8

Air pressure

MPa

0.6-0.8

0.6-0.8

Motor

Hydraulic pump

Kw

5.5

5.5

Cooling blower

Kw

7.5

7.5

Elevator

Kw

5.5

5.5

Overall dimension

mm

8200*2210*3240

11200*2210*3240

Gross weight

T

13.8

15.5
Mainly Features of EPS Air Cooling Type Block Moulding Machine:
1.The machine can produce any size foam board (from 950 to 1250mm) with the lifting system of the lower template to meet the different height requirements of the customers.
2.After the vibration aging treatment, the machine runs much safely. The quality of the finished products are more reliable with the delicate design of double gas cells.
3.The electrical system adopts PLC touch screen system for automatic control.
4.With the cooperative usage of digital electronic weigher, lift encoder and computer, adjust the product quality automatically
(additional order is necessary for this machine).